The Creation of a Website
Website Design From Start to Finish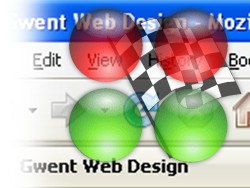 Every Gwent Web Design site is unique as it is designed by hand to recognised standards. The design process almost always follows this path:
Registering of a suitable domain name i.e www.gwentwebdesign.co.uk if the client doesn`t already own one. The domain name should ideally include the type of business or activity.
The domain is connected to a `hosting` account. This is a computer `server` where your website will physically be stored.
After discussion with the client a `template` for the website is designed with attention to colours, the navigation and features required.
The template is `uploaded` to the website server for consideration by the client. Communication goes back and forth until the template represents the needs of the client.
All other pages of the website are now created based upon the template and the content for each page is added and prepared for search engines.
Any additional featues such as a photo gallery, appointment calendar, mailing list etc are added and the website editor is installed along with the administration of other features.
The client is asked to view the website and requested to make any final additions or amendments.
The website then `goes live` and after payment a CD containing all files and passwords are provided to the client.
Kind Words

Having come to you from a recommendation, I can say all my expectations have been met, and more.
From the start you have been friendly, supportive, very knowledgeable and patient, explaining things clearly and simply. Any problems have always been dealt with very swiftly and promptly, and I know you are always at the end of the phone, to help. My enquires have picked up a lot since having the website, and pretty much all of my work now comes from it, which I am very pleased with! So thank you very much again.

Katrina Scully
www.abergavennyaromatherapy.co.uk